Is Immersive Web Around The Corner?
Web browsers are undergoing a "silent" transformation.
A December 2019 edition of this newsletter had referred to the promise that Mixed Reality (MR) held as a content platform, compared to Virtual Reality (VR) and Augmented Reality (AR).
It had also given a basic explanation of what these three technologies were.
Taking that line of conversation ahead, today, we'll look at the "silent" transformation of the World Wide Web (www). Behind your backs, the very core of web browsers, starting with the ones for smartphones, is being changed by the Internet biggies trying to usher in what's called, "the immersive experience".
While things are still in a very nascent stage, some entities have already started using immersive content to their advantage. A company Burberry recently launched an AR shopping tool linked to…..get this…. Google search.
Which means web searchers looking for Burberry products on their smartphones via Google can now activate the AR experience for an "immersive" experience. What it means is that a Burberry product can be "placed" in a real life setting via the phone camera. So, you can combine a virtual Burberry bag with an outfit owned by the searcher perhaps to "check out" whether both match. All this without leaving the comfort of your house.
Internet companies like Mozilla, Google, Facebook, to name a few, have all been working in stealth mode for a few years now in the endeavor to make the www "immersive". Almost all have launched the first iterations of their effort. The aim obviously is to move away from the flat, 2D perspective that web browsers offer today to one where the content consumer is either fully immersed in a situation or where the situation comes to the user.
The word "immersive web" covers an entire spectrum of "experiences" starting from VR, AR, MR and 360° videos. All of it sitting right in your web browser, with the "connect" being VR enabled headsets like Google's Daydream, Oculus Rift, Samsung Gear VR, and AR-enabled mobile devices.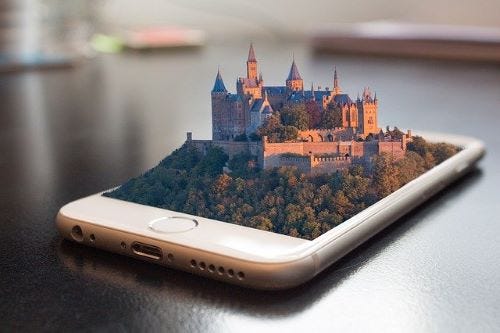 Like its competitors, Mozilla has also been leading the immersive web experience charge. It's Firefox Reality browser is already a reality (pardon the lousy alliteration). It allows a searcher to move back and forth from 2D to 3D experience within that browser.
---
---
In addition to the commercial promise, immersive web has other potential, too. It can (and is) add quality to education and healthcare, for example. In a classroom, geography students can be taken straight to the center of a park to learn of it; almost like a field trip. For budding surgeons, it can help dissect human anatomy without a real cadaver or patient. For shoppers, it can help them understand the qualities of a product before placing an order.
Like Mozilla, both Google and Facebook, too, are well into their respective journeys to bring on the immersive web. Google is beta-testing APIs like the WebVR spec. The new one, the WebXR Device API, is a product of the Immersive Web Community Group, which has contributors from Google, Microsoft, Mozilla, to name a few.
The recently released Chrome 81 (beta) for Android has both experiences inbuilt — VR & AR. AR here gives you a taste of things to come in your browser.
The potential of immersive web for content and marketing
Immersive web will require immersive content. Its impact on marketing, advertising and sales is going to be tremendous, perhaps even game-changing. It will obviously unchain content creators from the shackles of their uni-dimensional world to..…one that's as limitless as their imagination. I foresee all of this relegating some of the rigid rules of marketing to the dustbin, but that's a sideshow.
All 3 — content, advertising and marketing - is for informing a lead or a prospect about a product or service. With immersive web, it will about creating immersive experiences for the potential buyer or surfer.
Immersive will disrupt and impact Net surfers, consumers and almost everybody who is connected, in a way from which there will be no going back to the dull and boring "flatness" of 2D.
I leave you with this video courtesy Google that is an educational demo called, "Chacmool". It's around the artifact called Chacmool & how it can be viewed in an AR environment, which is 3D. It's almost as if you are in the same room as the historic statue.